"Baby Needs a New Pair of Shoes!"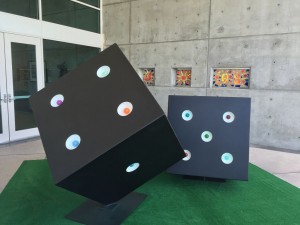 These epic dice are currently on exhibit at the Leepa Rattner Museum of Art in Tarpon Springs, Florida. Created by Steve Corrado and fabricated from heavy gauge steel at their tallest point stand nearly 6 feet tall.
The white "dots" self illuminate with a blue iridescent glow-in-the-dark coating. The solid steel balls suspended in each dot have 21 unique colors per die.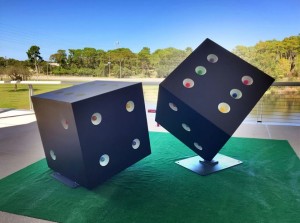 Corrado says: "Life is a roll of the dice – a gamble. If you want to play the game of life well, a substantial pair of dice comes in handy!"
Weighing over 700 pounds each, these dice truly have a presence
Available for purchase. Contact Saenger Milo Studio (727) 934-2379
We will drop ship to any location world-wide